Kesharth Hair Oil For Natural Color Protection & Thicker Hairs – First Time Ever Inspired by Ayurveda with Extremely Effective Formulation of 40+ Natural Herbs & Oils Including Ridge Gourd Oil / Torai Oil, Nirgundi, Shatavari, Onion, Walnut Oil 100ml
MRP: CAD$ 28.45
55 sold in last 3 hours
Undoubtedly Pick this Hair Oil, If you are facing…
Hair Thinning – This oil Fortifies hairs & makes them look thicker
Hair Greying in younger ages – This oil helps stop the early greying of hair
Damaged Hair due to harsh chemical treatments or colour application on hairs – This oil revitalizes hairs & makes them stronger.
Kesharth Hair Oil is the one answer for all your hair issues.
Estimated Delivery: Oct 10 – Oct 12
... people are viewing this right now
---
Description
Enjoy The Dark – Thick – Long Hair for years to
Come
Early greying of hair is a common issue these days. Thanks to pollution, unhealthy eating habits, and mental stress.Kesharth Hair Oil Oil contains Ridge Gourd oil along with 40+ other natural ingredients that help in protecting the natural color of hair at an early age. This is an authentic ayurvedic formula for grey hair, grey beard, and grey mustache.
Why Should You Use Kesharth Hair Oil?
Helps stop early greying of hair.
Fortifies hairs & makes them look thicker.
Revitalizes hairs & makes them stronger
Each Ingredient is authentically handpicked
to ensure the highest quality standards.
Ridge gourd or Turai Oil
This is one of the most effective ingredients that have the potential to prevent premature greying of hair. It possesses the enzymes that can restore the melanin in the root of the hair. This oil can stimulate the hair follicles, relieve itchiness and dryness of the scalp and promote healthy hair growth.
Nirgundi Leaf Extract
Obtained from the Nirgundi plant, this extract has antiviral and antibacterial properties, which help in preventing scalp infections. Leaves of Nirgundi are used as a hair tonic since ancient times. It is effective in treating several hair problems including prevention of premature hair greying, premature hair fall, and removing lice.
Shatavari
It is an anti-inflammatory herb, therefore helping in soothing the scalp. It is also helpful in promoting hair growth and strengthening the roots of the hair while maintaining the original color and luster of the hair.
Methi Seeds
High in protein and nicotinic content, Methi (fenugreek) seeds are extremely beneficial for both scalp and hair health. These seeds can treat smaller hair problems like dryness to more complex issues like baldness and hair thinning.
Curry Leaf Extract
The curry leaf extract not only promotes speedy hair growth but also controls hair loss. It also helps to strengthen the hair and repair the damage as well. It also prevents dandruff.
Red Onion Extract
Red Onion is rich in quercetin, a powerful anti-oxidant, which is highly effective for hair fall control & hair regrowth. Enriched with Sulphur, Red onion oil also helps in minimizing breakage & thinning of hair.
Redensyl
Redensyl is the newest advancement against hair loss. This compound is a blend of 7 plant compounds for hair growth. Redensyl effectively shows the result without any side effects. It also works as an anti-inflammatory and amino acid that build up protein for hair.
Saptaparni
(Indian Devil Tree)
The plant comes with numerous health and hair benefits. When applied to scalp, this extract of Saptaparni is effective in treating dandruff and lice while making the scalp more fertile by providing it right amount of moisture.
Brahmi Extract
(Bacopa monnieri)
Brahmi is capable of treating a dry scalp and prevent hair fall. The antioxidant components of Brahmi can rejuvenate the scalp and promote the regeneration of healthy hair. It is also helpful in treating problems such as dandruff, itchiness, and the formation of split ends.
Use at least 3 times a week for 30 days to start seeing optimum results.
How to use Kesharth Hair Oil
STEP #1
Replace the flip-top cap with the comb applicator for the targeted application.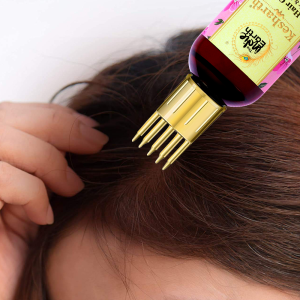 STEP #2
With every stroke of the comb applicator on the scalp, squeeze the bottle 1-2 times (0.5-1.0 ml) or according to your requirement and spread the oil using the applicator.
STEP #3
Repeat the above step to cover the entire scalp. Leave the oil overnight for best results.
Caution: For external use only. Our all "Skin, Hair, Body & Personal Care" Products contain natural herbs, extracts & oils. Some people can be allergic to natural ingredients, Patch test in inner elbow and leave for 45-60 minutes before use. In case of any discomfort or sensitivity discontinue use immediately. If you are uncertain about allergies or any possible sensitivity, consult a medical professional before trying.
Legal Disclaimer: None of our product is not meant to either prevent or cure any medical issues or substitute any ongoing medical regimen or treatment.
Every The Indie Earth Product is carefully formulated through consistent quality checks with high global standards. PETA Certified and Vegan Friendly; Totally without sulfates, parabens, mineral oils, silicones, gluten & dyes.
Reviews (29)
Only logged in customers who have purchased this product may leave a review.