Kesharth Hair Oil For Natural Color Protection & Thicker Hairs – First Time Ever Inspired by Ayurveda with Extremely Effective Formulation of 40+ Natural Herbs & Oils Including Ridge Gourd Oil / Torai Oil, Nirgundi, Shatavari, Onion, Walnut Oil 100ml
You Save: CAD$ 5.00 (15%)
Selling Price:
42 sold in last 3 hours
Undoubtedly Pick this Hair Oil, If you are facing…
This oil Fortifies hairs & makes them look thicker
This oil helps delay the early greying of hair
This oil revitalizes hairs & makes them stronger.
Kesharth Hair Oil is the one answer for all your hair issues.
Estimated Delivery: Dec 12 – Dec 14
... people are viewing this right now
---
Description
Enjoy The Dark – Thick – Long Hair for years to
Come
Early greying of hair is a common issue these days. Thanks to pollution, unhealthy eating habits, and mental stress.Kesharth Hair Oil Oil contains Ridge Gourd oil along with 40+ other natural ingredients that help in protecting the natural color of hair at an early age. This is an authentic ayurvedic formula for grey hair, grey beard, and grey mustache.
Why Should You Use Kesharth Hair Oil?
Helps delay early greying of hair.
Fortifies hairs & makes them look thicker.
Revitalizes hairs & makes them stronger
Each Ingredient is authentically handpicked
to ensure the highest quality standards.
Ridge gourd or Turai Oil
Nirgundi Leaf Extract
Shatavari
Methi Seeds
Curry Leaf Extract
Red Onion Extract
Use at least 3 times a week for 30 days to start seeing optimum results.
How to use Kesharth Hair Oil
STEP #1
Replace the flip-top cap with the comb applicator for the targeted application.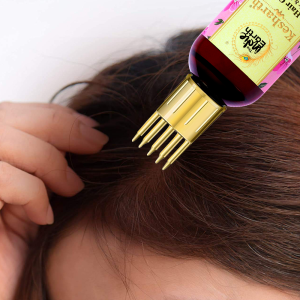 STEP #2
With every stroke of the comb applicator on the scalp, squeeze the bottle 1-2 times (0.5-1.0 ml) or according to your requirement and spread the oil using the applicator.
STEP #3
Repeat the above step to cover the entire scalp. Leave the oil overnight for best results.
Caution: For external use only. Our all "Skin, Hair, Body & Personal Care" Products contain natural herbs, extracts & oils. Some people can be allergic to natural ingredients, Patch test in inner elbow and leave for 45-60 minutes before use. In case of any discomfort or sensitivity discontinue use immediately. If you are uncertain about allergies or any possible sensitivity, consult a medical professional before trying.
Legal Disclaimer: None of our product is not meant to either prevent or cure any medical issues or substitute any ongoing medical regimen or treatment.
Every The Indie Earth Product is carefully formulated through consistent quality checks with high global standards. PETA Certified and Vegan Friendly; Totally without sulfates, parabens, mineral oils, silicones, gluten & dyes.
Reviews (63)
Only logged in customers who have purchased this product may leave a review.