The Indie Earth Red Onion Oil 200ml – Repairs Damaged Hair – Makes hair Thicker & Stronger
You Save: CAD$ 7.45 (29%)
Selling Price:
45 sold in last 1 hour
Get strong and lustrous hair. This daily care hair oil works to condition your weak strands and moisturize your scalp. Light, non-sticky hair oil can be used on very curly and dry strands.
Nourishes hairs by maintaining natural moisturisation of hairs and gives them more soft & shiny appearance.
This oil can be used on any type of hair, be it curly, straight, textured, thick, thin, fine, coarse, colour treated, etc. It can also be used on any type of scalp.
Blended with 29+ powerful natural ingredients including Red Onion Extract, Curry Leaf Extract, Bhringraj Oil, Black Seed Oil, Sunflower Oil, Vitamin E, Argan Oil, Jojoba Oil, Amla Extract, Hibiscus Extract, Neem Oil, Bhringraj, Jatamansi, Arabian Oud Oil, Shea Butter etc.
Estimated Delivery: Dec 12 – Dec 14
... people are viewing this right now
---
Description
Advance
Ayurveda's Hair
Strengthening,
Restoring,
Nourishing
Secret
A Wonder Combination of exquisite Red Onion Extract, Arabian Outh Oil Extract, Sunflower Oil, Vitamin E, Argan Oil, Jojoba Oil, Amla, Hibiscus Extract, Neem Oil, Bhringraj Extract and several Ayurvedic Ingredients which are highly effective for Hair Growth!
Massage your hair with just a few drops to get
Makes Hair Stronger
Thickens Hair Shaft
Revitalizes Hair's Beauty
Makes Your Hair Soft & Lustrous
This oil is a blend of natural ingredients which work wonders for hair health.
Onions are a miracle for hair growth as they contain dietary sulfur, which is excellent for hair nourishment. Add to that their antioxidant properties, which strengthen hair follicles and scalp health respectively.
The Red Onion Oil contains Arabian Outh Oil, and 29+ premium grade botanical oil, essential oils, and extracts that are potent for stimulating hair growth.
Strengthen your hair with a perfect blend of precious herbs and mesmerizing oil & Extracts that you might have never used or heard of before!
Sarah
I used this product for around 2-3 weeks and this product helps a lot in managing my hair it feels very light to my head and gives a non-sticky feeling and really last 1-2 days in the hair I also liked that after also being an onion oil in it it does not smells like onion and smells very good. I recommend this product as it is an organic and good product in my opinion.
Jack Wilson
more than 3 hair growth oil of different brands I have used but none of it worked properly. But when I used The Indie Earth's red onion oil for the last 10 days. Trust me, I have seen a huge difference in my hair growth well. my hair looks so shiny and smooth after using this oil and this oil is made up of onions seeds but it doesn't smell unpleasant to me. it gives very good aroma, moreover the packing of this oil very good for its full worth for money.
Becky Franks
Bought this product for my boyfriend. His hair felt really soft and smooth. You might get a strong smell but that goes off in a few minutes. The oil is very lightweight, non-greasy and helps to improve hair texture.
Paul Jackson
I like the packaging of the oil. It's pretty simple and it also delivered on time very good product. This is the most effective onion seed hair oil It is a blend of several nourishing essential oils that are helping me to see the growth of hair on my head.
Staffo Bishop
Been using this product for a week now. Onion is the key to hair growth. If you use this oil after shampoo it actually makes your hair quality really good and even stimulates hair growth. It even gives out a very nice aroma. Most importantly all the ingredients are natural and definitely safe.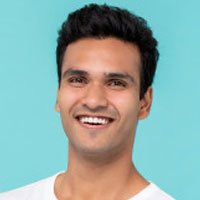 Chirag Deshmukh
I am an Indian residing in the US. I am so happy to see Indian Ayurvedic oil here. I am a big fan of this oil. This is my hair rescue product. 1 year back I was suffering from huge hair loss with patches, so I was recommended using natural onion oil but the scent was too strong and it wasn't really proper for using outside or daily. I looked around and found this, currently on my 3rd bottle and I see some new hair strands popping up. I am positive about its results.
Shaila Gorthman
Helps hair growth. Good product for maintaining hair. It's Non-Sticky, Non-greasy Hair Oil For Silkier & Stronger Hair.. For hair growth, massage the oil vigorously onto the scalp for 10-20 min.. I use it twice or thrice a week only but the results are outstanding! The product is really good.
Each Ingredient is authentically handpicked
to ensure the highest quality standards.
Sunflower
Argan Oil
Hibiscus Extract
Bhringraj oil
Amla Extracts
(Indian Gooseberry)

Shea Butter
Jojoba Oil
Red Onion
Arabian Outh Oil
The well-calculated blend of Red Onion Seed with these freshly extracted oils makes this oil highly effective in nurturing the growth of healthy strands while strengthening the roots of the hair, making your hair look thick and lustrous.
Here is what our customers say about
Well one of the best-suggested hair oil so far. Does the job, and the best part is the non-sticky consistency. The scent is natural, does not have a high fragrance. The ingredients used are all-natural and there is no hint of artificial chemicals. Without exaggeration.
Debbie
For the past few months I have been trying to grow my hair but due to hair fall and dandruff ita quite difficult for me so I ordered this The Indie Earth's onion seed oil that really helped me to stop my hair fall and grew them better. And its packaging really impressive and it doesn't smell like onions.
Tony Bison
This product is really good. The packaging gives it a premium look, and the scent of the oil is also very nice. Onion oil is very good for hair growth and nourishment. In two and a half months my hair has become thicker and longer.
Jennifer Tucson
The best onion oil from a very good brand. Using since a week. Nice scent with amazing hair fall control. Very good for me.. And It's not only an Onion hair oil, but It also comes with other essential ingredients which help hair fall problem. I have been using it for the last 1 month, it's nourishing your hair.
Jean Gowadano
I am using this for one month and there is really control of hair fall and it almost stopped after using 3 times a week. Very happy about that. The thickness and smell of oil also very decent and bearable. However, looking if it helps hair growth after using few more months. Indian products are amazing.
Sheb
I bought it for my father, he absolutely loved it. He said his hair looks so shiny after using it, also it smells so nice. He was losing hair from his temple. He is very happy that new hair is coming out now. The oil is very light, and doesn't make your hair look sticky.
Steaks
Here is what our customers say about The Indie Earth Red Onion oil
Olivia
My husband uses The Indie Earth's red onion oil to help eliminate his dandruff. It comes and goes and when he is experiencing dandruff. He's also using it to help promote hair growth where he now has a few bald patches due to aging. He has seen a few hair growing also he has noticed far less hair in the shower drain since using the oil. It also gives his black, curly hair a nice shine. He does have some skin sensitivity issues but this oil does not affect him negatively in any way. He's thrilled with his results and will continue to use this oil.
Carol Seal
These hair ingredients are pure & natural. there is zero chemical in it and the fragrance is simply awesome. And, this hair oil is so light & soothing that you can feel it after its first use. This hair oil is good for my dry scalp.
Sofie Tooke
I have been using it for 8-10 days and my hair fall is already stopped. It also smells the essential oils from its scent. I was recommended this oil by a friend who was having hair loss. I saw a visible difference in his hair before I bought this. I am happy the I listened to him.
Veronica Brown
Smells good and effective for hair fall. I am using it on a regular basis. My hair already feels good. I had very thin hair that used to break so easily. This oil is working well for me. Now my hair doesn't break frequently and looks smoother and shiny.
Beck J
Have been using this product for quite some time and I must say I'm quite satisfied by the quality and the feel-good factor that it gives. The scent of the oil is really good and overall the product has been quite satisfactory. It is the best hair oil I've ever used. It improved hair texture, reduced hair fall and promote hair growth.. just thankful for such an amazing oil.
Saba Hen
I bought this oil for my husband. The doctor has recommended him to go for a hair transplant. He wasn't keen on such an expensive treatment. So, we decided to give try this oil along with red onion shampoo and guess what? We can see a few new hairs popping up in just about 1 month. Earlier he was using it 2 days a week but now he applies daily. He can't wait to see thick hair on his head. Thanks The Indie Earth.
Julienne
No Onion smell thankfully but has a lovely aroma and feels soothing on scalp washes out easily too. It is soothing when gently massaged into the scalp! I have suddenly got post-Covid Alopecia which is another Long term condition. To my surprise, this is working to help regrowth and definitely soothes my scalp when I put a silk chemo cap on and sleep in, it feels lovely and shampoos out well too.
How to use Red Onion Hair Oil
STEP #1
Apply oil on tip of your fingers and rub it gently on the scalp of your head for a few minutes. This will help the scalp to absorb the oil.
STEP #2
If possible, leave it overnight. If you cannot do so, apply the oil at least one hour before washing hair
STEP #3
Shampoo your hair with The Indie Earth Red Onion Shampoo (Or any other sulfate-free shampoo) (For best result follow Red Onion Haircare Regime)
Caution: For external use only. Our all "Skin, Hair, Body & Personal Care" Products contain natural herbs, extracts & oils. Some people can be allergic to natural ingredients, Patch test in inner elbow and leave for 45-60 minutes before use. In case of any discomfort or sensitivity discontinue use immediately. If you are uncertain about allergies or any possible sensitivity, consult a medical professional before trying.
Legal Disclaimer: None of our product is not meant to either prevent or cure any  medical issues or substitute any ongoing medical regimen or treatment.
Reviews (239)
Only logged in customers who have purchased this product may leave a review.