No matter what your hair type, length, or color is, getting hair obstacles is super common, but you should not really fret about it!
The one thing that is extremely common on the beauty wish list of every woman is lustrous, healthy hair. But just as the way we love our hair to the core, so do the problems – it can literally attack your strands from anywhere. Perhaps leaving your lengths all dry and damaged.
So, what can you do about this?
Keep on avoiding the issues because it's just too common, or follow a few must-know tips religiously to keep your hair in top shape. I think the latter one would work in your favor!
Hence, to help you get the hair of your dreams, down here we will be mentioning some common hair care tips. All of these tips are universal and pretty easy to implement in your hair care routine.
We dare you – don't skip any step, and you'll undoubtedly love us for all the magic hair tips we gave you!
8 Best hair care tips for women (any length, any hair type)
1. Massage, quite often
The one hidden secret to getting impossibly long, glossy, lustrous, healthy-looking hair length is massaging. And really what's better than a 15-minute deep scalp massage to get rid of all the stresses you had throughout the day?
Scalp massage promotes blood circulation and gives lengths much-needed moisture. A few essential oils out there even promote hair growth and improve hair thickness. Some of the best ones you must try are lavender essential oil, rosemary oil, peppermint, cedarwood, and ylang-ylang oil.
2. Cleanse your scalp
Just after you have applied oil to your lengths, next comes the cleansing step. But remember to always wash your hair after an hour of oil application. In this way, your scalp will be able to absorb more oil.
Next, while washing your hair make sure to scrub your scalp to get rid of oily and shabbiness. Scrubbing will even remove dead cells from the surface which might be an obstruction to your hair growth. However, do remember not to overwash your hair, because you might end up washing natural oils, leaving your hair dry and dull.
Shop Now – Red Onion Shampoo
3. Condition your lengths
At this step, Shampoo has done its work and cleansed out your whole scalp and length. But there is a slight chance that it might have stripped off the oils. Hence, after washing your hair make sure to apply conditioner to your lengths to restore the lost moisture.
Not just this, hair conditioning comes with multiple benefits – it will give shine to your lengths, reduces frizz, and detangles at the same time. To get the most out of the conditioner, make sure to avoid hot water, and leave the conditioner for at least 5 minutes on the lengths but not on the scalp.
4. Moisturize after washing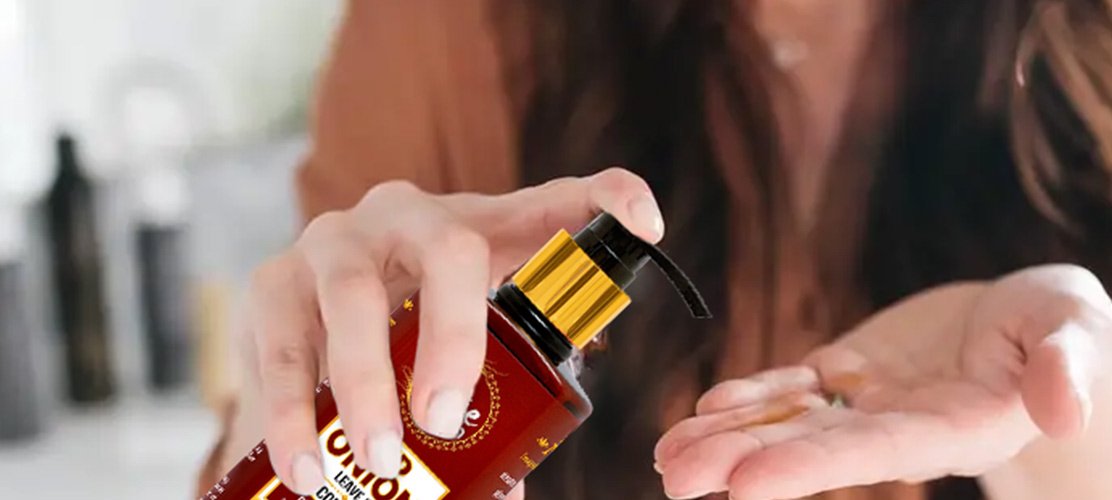 Yes, you have applied conditioner to your length for that extra shine, but what about your scalp? Even that needs to be taken care of and nothing best than hair serums will help you do so. Hence, after washing your hair, make sure to apply serum or leave-in conditioners to seal in all the moisture and prevent dryness for three to four days.
Lastly, don't apply too much product at this step since all of this can weigh down your hair by taking away the volume you always wanted.
Shop Now – Red Onion Leave in Hair Conditioner
5. Detangle the right way
Getting knots in the length is common, but you must not get very rude to it while detangling. Make sure to detangle the larger knots or clumps with your fingertips itself. And for smaller ones, use a wooden comb and start by brushing the lower ends. Once you have detangled the ends, go to the roots now and gently brush downwards.
Also, make sure to invest in a good detangling comb according to your hair type. And never detangle your hair when it's wet because it can cause extreme breakage.
6. Protect from environmental stressors
Controlling pollution and UV rays is not in your hands (up to some extent), but protecting your hair from all these issues is something you can do on your own. Hence, while moving out of your house make sure to tie your hair and even a scarf would work best here.
7. Go easy with styling

.
Straightening, curling, and hair drying is something we do quite often, but are these necessary? Absolutely no, however, some days you will have to style your hair, and at that time make the hair protectant spray your best friend.
8. Don't miss out on nutrients
To make your lengths strong from within, you should never miss out on nutrients like Protein, Iron, Vitamin E, Omega 3 fatty acids, and Vitamin B12. Hence, ensure that your diet all day long is power packed with these nutrients. If not from food, you can always stick to supplements for that extra boost.
Closing Words
Building a hair care routine from scratch is undoubtedly a tedious task. But remember that if you want your tresses to be strong from within, things will take time. Until then, make sure to follow the above hair care tips, and if not in a few days, you will surely get the best hair of your life in a few weeks itself.
Keep shinin' girls!