Rose Essential Oil (Sourced From Bulgaria)
You Save: CAD$ 7.35 (30%)
Selling Price:
34 sold in last 3 hours
For Aromatherapy & Topical Use.
Don't Fall Victim To Other Cheap Diluted Rose Oils – Most competitors dilute their oil with cheap carrier oil or other potentially dangerous chemicals. Our Rose oil is routinely tested for purity and other strict quality standards are applied in order to ensure you are buying the purest oil available.
Best in Class Essential Oil – The Indie Earth Offers the Highest Quality Essential Oils Available – The Indie Earth is an India based company that search the globe to find the finest, freshest essential oils available. The Indie Earth Rose Essential Oil is sourced from BULGARIA and steam distilled. Use as your own pure Rose Perfume, Rose soap, Rose lotion, Rose Face Cream, Rose essential candle.
Estimated Delivery: Dec 12 – Dec 14
... people are viewing this right now
---
Description
Here comes the
Queen Of The
Oils!
Popularly known as the "Queen Of The Oils", Rose oil is power-packed with powerful medicinal, cosmetic, and emotional benefits. The flower has been valued for its psychological and physiological benefits for over centuries now. The enriching aroma is not just refreshing and mesmerizing, but can even relax stress and depression. And that's the reason why it's widely used in aromatherapy, fragrances, perfumes, and soap making as a major ingredient. 
We extract our rose essential oil from the petals of rose flowers through the steam distillation process. Due to this, none of the medicinal and anti-inflammatory properties of the flower gets harmed. And since we only want our customers to get natural and pure rose essential oil, we don't add any chemicals, fillers, or artificial fragrances to the oil. Moreover, one can use our essential oils with any carrier oil like almond, avocado, or jojoba oil to get more additional benefits.
One can even diffuse rose oil every day to fight off insomnia-related issues. The blooming floral fragrance brings a sense of relaxation, and would help you kickstart your day in the best possible way!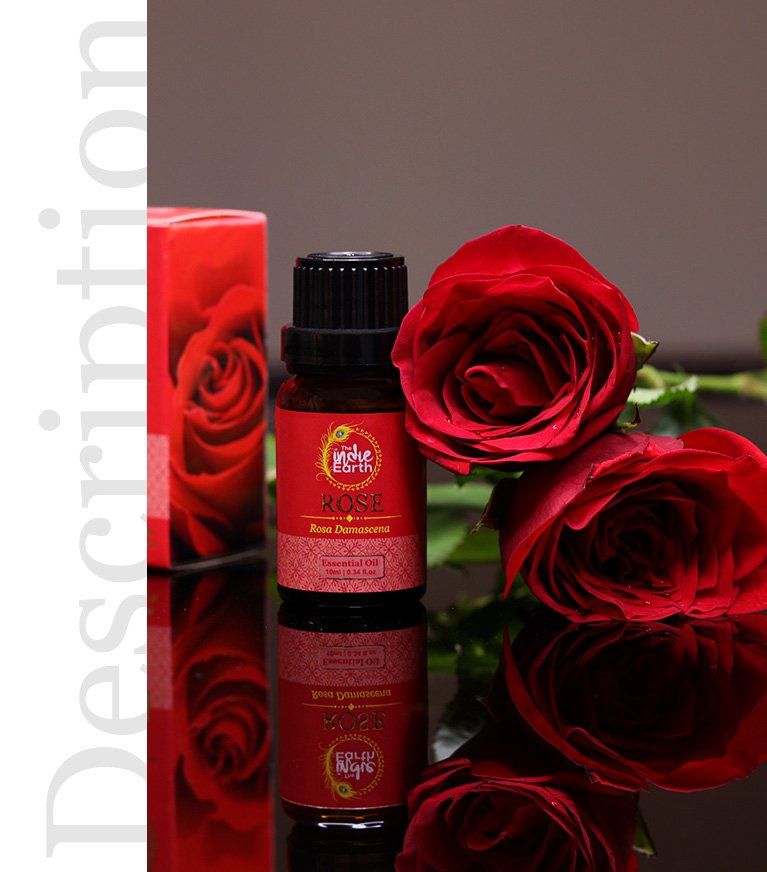 Uses of Rose Essential Oil
Cosmetic Products
The anti-inflammatory, anti-aging, antimicrobial, and anti-fungal properties of rose essential oil improves the quality of cosmetic products and makes them all stay longer. One can even use this pure rose oil as a natural preservative for any makeup or skincare products like moisturizers, lipsticks.
Scented Candles
Our rose essential oil has a slightly warm, spicy, and deep floral-like odor, hence you can use a few drops for your DIY candles. You can even use the oil as your bath oil by pouring a few drops in warm water. The absolute unique smell of the oil has rejuvenating effects on both mind and body.Turmeric Essential Oil is known to remove dryness and excess oil from the skin, resulting in its improved overall resilience. It is also quite helpful in exfoliation, making the skin healthy and radiant by giving it a natural boost.
Aromatherapy
Rose essential oil is known to relieve stress, anxiety by relaxing your body and mind with its aroma. You can use the oil in aromatherapy since it can move deep into your body while comforting the mind. If used for massaging purposes, the oil can reduce inflammation, relax spasms, and muscles.
Room Freshener
You can use our rose essential oil as a room freshener just by diffusing a few drops into water mixed with any carrier oil. The deep floral-like odor of the oil can eliminate foul smells and clean the air with its antibacterial properties.By massaging small quantities of bath and massage oil made from turmeric oil to the skin, one can reap the benefits of its anti-fungal, antiseptic, antibacterial qualities, which directly promote overall skin health, by alleviating blemishes, excess sebum, and dryness
Hair Care
If you are someone suffering from damaged and dry hair, it's high time for you to pick a pure moisturizing essential oil. Just adding a few drops of rose essential with any carrier oil can make your hair healthy and vibrant. Regular relaxing head massages can also improve your overall hair quality.
Soap Making
Since rose essential oil comes with a lot of natural health benefits, the antimicrobial and antiseptic properties of the oil can act as the best combination for soaps. Also, the aroma of the oil can give you a relaxing bath time!
Why Choose Rose
Essential Oils From The Indie Earth?
Why Choose Rose Essential Oils From The Indie Earth?
The Indie Earth is one of the leading wholesalers and suppliers of rose essential oils across the globe. We export top-quality rose essential oil and other essential oils to our customers in the safest way. None of our oils contains preservatives, fragrances, chemicals, additives, or fillers, hence they all are safer for daily use.
Reviews (5)
Only logged in customers who have purchased this product may leave a review.