When you are in your 20s, you are in your make or break years in all areas of your life. May it be your career, family, and friendships. This is the time when your skin also seeks your attention. A proper skincare regime, managing skin problems such as acne. You must make the right decision on choosing the right skincare products for yourself.
Here are some of the best skincare products that you should start using in your 20s.
Vitamin C Serum
Vitamin C is an extremely important nutrient required by the skin to be healthy. Loaded with antioxidants, Vitamin C helps in diminishing dark spots and improves skin texture. Vitamin C serum is also helpful in preventing melanin production, which eventually can slow down skin aging. The Indie Earth Vitamin C Serum is formulated from Plant-based Ferulic acid. Its high content of antioxidants enhances the stability of vitamins C and E in the skin. If you start using this serum in your early 20s, it can help you in preventing signs of aging such as fine lines, wrinkles, dark spots, and uneven skin tone. With regular use of The Indie Earth Vitamin C Serum, you can get firm, toned, and plump skin.
Under Eye Gel Cream
Puffiness and dark circles are common in the 20s because most people spend several hours in front of the computer screen or mobile screen. Our eyes are bound to get tired. The Indie Earth Good Bye Dark Circles Vita Hydrate Under Eye Gel Cream takes care of your eye contour area
This gel-cream contains natural oils and extracts that help your eyes and skin under the eyes to relax and rejuvenate. The Indie Earth Goodbye Dark Circles Vita Hydrate Under Eye Gel Cream is extremely helpful in treating and preventing fine lines, wrinkles, puffiness, and dark circles.
Tanning Removal Cream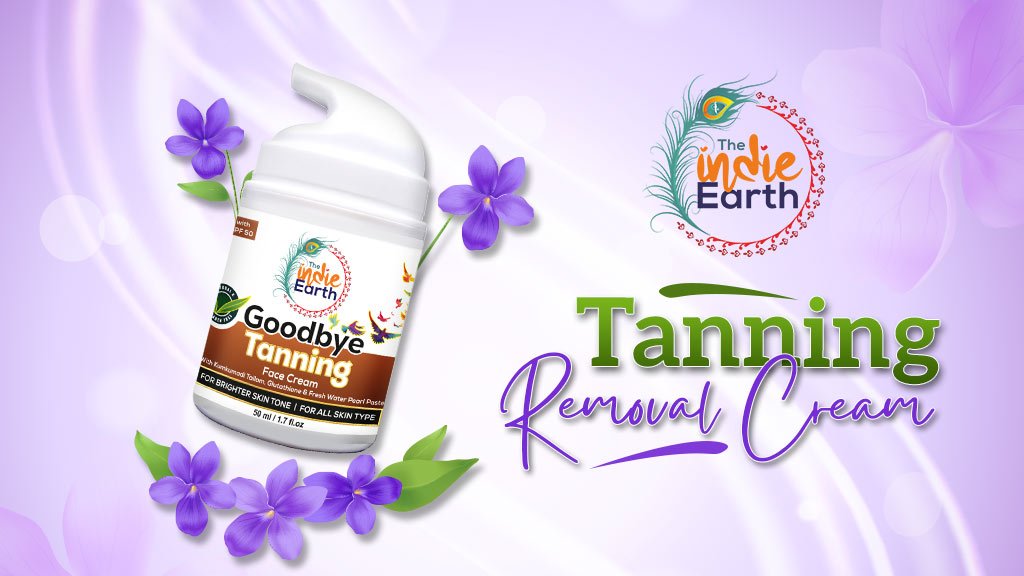 Sun tanning is a natural process that happens when your skin gets exposed to the UV radiation of sunlight.  The color is tanned and if you have sensitive skin; there are chances that you get dark patches (sunburn) on your skin. The Indie Earth Goodbye Tanning Face Cream helps you to remove tanning by giving lighter skin shade. It also gives you even skin tone and helps in reducing dark spots and blemishes.
This cream forms a protective layer on the skin to keep the harsh effects of sun rays. The cream should be applied throughout the years even in winter. Though Sunlight appears soothing in winter, UV radiation remains harmful for the skin.
Anti-Blemishes Cream
Blemishes are the marks, or spots on the face. These are primarily the results of acne, rashes, sunburn, pimples, or skin infections. Blemishes make your face look dull. It's better to start using an anti-blemish cream as soon as you notice a few marks on your face. The Indie Earth Goodbye Blemishes Vitamin C Face Cream is a wonderful combination of premium herbs that helps in reducing the blemishes and dark spots on the skin. Not only that, but this naturally formulated cream also moisturizes, tones, and soothes the skin. Furthermore, the natural ingredients present in the cream also provide antibacterial and anti-inflammatory benefits to the skin.
Kumkumadi Oil
Kumkumadi Oil or Kumkumadi tailam – A unmatched gift of mother nature. The oil is a one-stop solution to treat all kinds of skin related problems. The use of this oil not only treats the skin problems but it has the potential to prevent them from occurring. The Indie Earth Kumkumadi Oil is a special blend of natural herbs formulated according to Ayurvedic principles. This oil can hydrate, clean, and illuminate the skin. By using this oil regularly, you can delay the skin signs of aging too.
Bonus Tip
Many studies reveal that the use of natural formulations is safer than chemical formulations. Natural skincare products are made from non-artificial ingredients such as essential oils, herbs, extracts, fruit-based acids, etc.
The herbs and plants that form the very essence of all-natural formulations have all the qualities to take care of and nourish the skin.
On the other hand, chemically-laden products may show up results faster but in the long run, these can lead to harmful effects on the skin as well as overall health.
Conclusion
Aging is a natural process. As you grow, your skin also begins to show up your age. By incorporating the right skincare products, well on time, you can keep your skin healthy and keep the flaws and signs of aging on the bay. The Indie Earth promotes the use of plant-based, environment-friendly and cruelty-free skincare products so that we together can reduce the load from the planet while staying healthy and looking gorgeous.