Amla, Reetha and Shikakai are herbal fruits and are a wonder combination of this trio ensuring a strong and beautiful hair. You must give a chance to this trio to your hair that is being fed for a long time by hair care products.
Amla, Reetha and Shikakai are home-made, same as your home-made food. The English names are Gooseberry, Soapnut and Acacia Concina that are extremely good for your hair.
Why use it?
The Amla, Reetha, and Shikakai is a rich combination for your hair:
Amla: Amla is a berry containing antioxidants to highest amount. These antioxidants help in repairing your hair damaged cells and also help in protecting the hair cells existing from damages. It is crucial to take good care of hair cells and so keeping it protected and healthy is important.
Loss of hair or treatment for baldness, it is done through Stem Cells Therapy. Here they inject stem cells so that there is an increase in the hair cells numbers. Instead of spending money on treatments and suffering pain, you can consider this easy, natural and economical way of increasing the hair cells life.
Reetha: Reetha is iron-filled and it has antioxidants in three types such as:
Antioxidant Enzymes
Antioxidant Nutrients
Antioxidant Phytochemicals
Reetha contains antioxidant enzymes, while for catalyzing the blessing antioxidant enzymes effects on hair, iron is helpful.
Shikakai: The iron absorption from Reetha means you need Vitamin C and it is an antioxidant nutrient found in good quantities benefiting the hair from inside.
There is antioxidant Phytochemicals in all the herbal fruits and so this trio combination is good for hair health.
How to use?
The hair care is dependent on 3 stages: oiling, shampooing and conditioning.  Finding Amla, Reetha and Shikakai in India market is in the forms as:
Dried Fruit form: The Amla, reetha, and shikakai are sun-dried fruits that are soaked usually overnight to make a pulp. This step is adopted commonly to make Amla reetha shikakai shampoo at home. These dried fruits are crushed into powder form.
Powder form: The trio powder is mixed with water, milk and rose water to make a paste.
How to Apply?
Use with a hair coloring brush.
Take all the powders in the ratio as 1, while rose water is 2 and camphor powder as ½.
Add to get proper volume
Amla Reetha Shikakai Hair Tonic Oil
This oil is suitable for all types of hair. These 3 fruits are taken in 1 each ratio and mixed with coconut oil ratio 2(1 ratio means taking 1 tablespoon)
Steps:
In a large saucepan fill it half with water and heat in medium flame.
In a small saucepan fill coconut oil.
Drop Amla, reetha, and shikakai dried fruits inside it, place the small saucepan inside the large pan.
Heat everything in low flame.
Keep stirring at intervals. Heat for 10-15 minutes, until you see bubbles.
Leave the mixture for next 24 hours.
Strain and store it in a jar to remain fresh.
It is best to use before shampooing, a night before. Massage your hair and scalp with this mixture of oil. However, apply oil to your hair even on non-shampoo days.
Amla Reetha Shikakai Hair Shampoo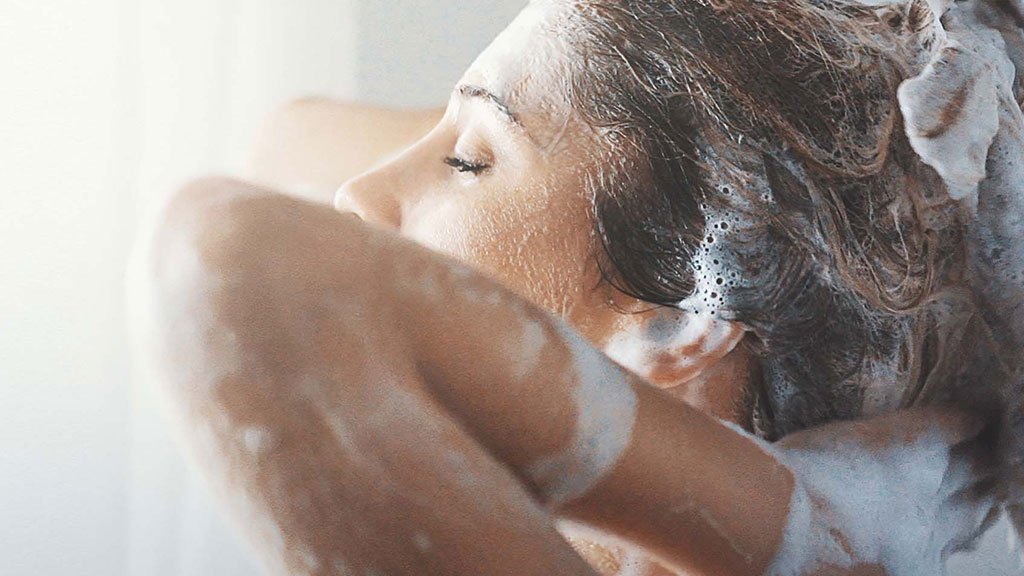 Take Amla, Reetha and Shikakai dry fruits in equal ratio.
Steps:
Soak dried fruits at night in water
Heat the solution in the morning for 20 minutes.
Pour solution in a blender and run, get a pulpy texture.
Strain it and press the remaining to get juice and use it to wash your hair.
Use it anytime you plan washing your hair.
Amla Reetha Shikakai Hair Masks
Hair masks are applied after shampooing. Amla Reetha Shikakai hair seals vary for different hair types and problems.
For Hair Fall: Take all 3 powders in the ratio of 1, mix with 2 rose water and ½ camphor powder.
Method:
Crush the camphor pills to powder, mix the dried powders in correct ratio and apply the past on your scalp and hair. Leave it for 30 minutes, rinse using water properly. You can do this twice a week.
For Strong Hair: Take all 3 powders in the ratio of 1, mix with Brahmi powder also in the same ration and mix with Olive oil in 2 ratio.
Method:
Heat Amla juice or powder with olive oil, add other powders and get a semi-solid sticky texture. Allow it to cool and apply. For 30 minutes leave it and rinse hair using water. You can use it three times a week.
There is no better solution for almost all hair related problems than the wonderful combination of Amla Reetha Shikakai. The Indie Earthl Amla Reetha Shikakai Hair Shampoo are usually include these herbs without blending without harmful chemicals. Its regular use has shown a drastic improvement in the overall quality of hair.